This Dr. Jekyll & Mr. Hyde is bare-bones, but fully engaging. The sets are made entirely of black, stackable stairs with hidden compartments that open for embellishments. The costumes are also all black, with minimal accessories to help the audience with the character changes. The staging/direction (also by Stromberg) is smart and sharp to fully maximize the humor of the production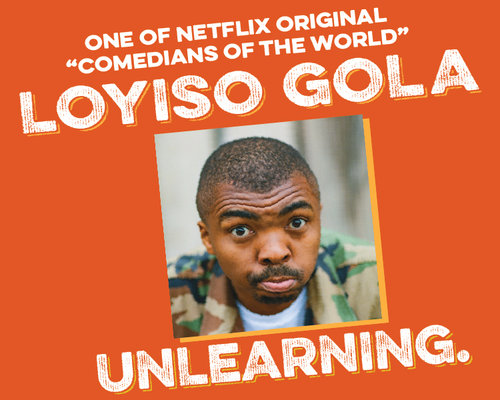 One of NETFLIX Original 'Comedians of the World' and two-time Emmy-nominated Loyiso Gola, is one of South Africa's most-loved comedians for a reason. This Spring, Loyiso will bring his critically acclaimed new show: Unlearning to New York.
Known as the Wright Brothers of the Unwritten, TJ & DAVE create full-length, hour-long plays from scratch (without audience suggestions). Always funny, they are also revered for their insightful, and deeply moving outcomes. And what makes them all the more remarkable – fans attest – is that these dazzling feats of comedic and acting ingenuity NEVER recycle stories or characters. Trust them – it is all made up.
Julie and Robert have been married for 4 years. They are not getting along. They decide to spend 24 hours together in a hotel room with no television, no cellphones, no internet or computers and see if they can work things out.
When, at age 47, Phil's wife is diagnosed with Parkinson's, it sends him on a hysterical roller-coaster ride through an escalating mountain of pills, dangerous liaisons, questions of manhood and womanhood, desire, faith, love, and ultimately, an exploration whether our personalities and passions may be little more than tamper-resistant chemical reactions stirred up in our brains.
The talk of NY when a brief version of the story appeared in the NYT Modern Love column, Seinfeld writer Marc Jaffe and Broadway playwright Eric Coble expand the hilarity and delve into its depths, while actor Nick Koesters startles with his dexterity and heart. All proceeds benefit the Michael J. Fox Foundation.
After its sold-out run in London, Phoebe Waller-Bridge's award-winning comedic play, directed by her longtime collaborator Vicky Jones, comes to New York for 5 weeks only. The play that inspired the hit television series, FLEABAG is a rip-roaring look at some sort of woman living her sort of life. Fleabag may seem oversexed, emotionally unfiltered and self-obsessed, but that's just the tip of the iceberg. With family and friendships under strain and a guinea pig café struggling to keep afloat, Fleabag suddenly finds herself with nothing to lose.
Baba Brinkman's Rap Guide Series (3 shows)
Baba Brinkman's Rap Guide to Evolution, Consciousness, and Climate Chaos, a scientific theater cycle at the SoHo Playhouse.
Consciousness - "Peer reviewed rapper" Baba Brinkman takes a deep dive into the neuroscience of human experience, from sensations to hallucinations.
Evolution - A hip-hop tour of modern evolutionary biology, winner of the Scotsman Fringe First Award in Edinburgh and nominated for a Drama Desk Award off-Broadway
Climate Chaos - Confronts the challenge and also the failings of human psychology that make climate change such an easy problem to ignore. With scientists, activists, contrarians, and even the Pope adding their voices to the soundtrack, get ready for a funny and refreshing take on the world's hottest topic.
Max Stossel is an award-winning poet + filmmaker named by Forbes as one of the best storytellers of the year. His performances across five continents, from Lincoln Center in NY to the Hordern Pavilion in Sydney, have been described as mind expanding, profound, emotive, and hilarious all at once. His work has been translated to fourteen languages, won multiple film festivals, and has been viewed over 15 million times online. You can watch some of his short films at www.wordsthatmove.com
Ted Greenberg's The Complete Performer
Ted Greenberg's "The Complete Performer" - Emmy-winning former David Letterman writer Ted Greenberg performs one hour of boisterous, interactive comedy that ends with one audience group being whisked home in a yellow cab by Greenberg himself.
Now in it's 8th* smash season. Suitable for 16+
Strictly limited run - WILL SELL OUT – book early.
From the star of the global sensation "DANIEL SLOSS: X"
NOW is part 3 in the Daniel Sloss trilogy of shows where parts 1 & 2 are streaming worldwide on Netflix as his specials "DARK" & "Jigsaw".
Daniel has made a record number of appearances on 'Conan', has 2 Netflix hour-long specials available worldwide (in 190 countries and 26 languages), has performed 4 solo off-Broadway runs (including his ground-breaking February 2019 season of "Daniel Sloss: X" which saw 30 sell-out performances in just 19 days and playing to over 5,000 people), sold out extended seasons in the past 11 Edinburgh Fringes (packing out the biggest venues at the world's biggest arts festival) and tours extensively to rave reviews throughout, USA, Australasia, UK and 30+ countries across Europe.
He's still only 28 years old. NOW, what's next?
'Dirty, sweet and clever' (New York Times)
(WARNING: Contains adult themes and strong language. Age 16+)
NATURE & PURPOSE is an exploration of the idea of 'art' told through the works of two contemporaries who made their marks in different mediums - painter JACKSON POLLOCK and performance artist CHRIS BURDEN. Both artists were considered rebels in their fields, and introduced the world to their radical and 'no holds barred' approach to creation.
Featuring the play A BEAST/A BURDEN by Billy Ray Brewton and POLLOCK: A FREQUENCY PARABLE by Matthew Marcum.
Daniel Sloss Presents An Englishman, Another Scotsman and An Irishman
During his February 2019 residency at the Soho Playhouse, Daniel is very excited to be joined by three of his best friends, who just happen to be three of the UK's funniest comedians.
Quite literally an Englishman, a(nother) Scotsman and an Irishman, each week will feature one of the artists performing their own one-hour solo show in the intimate downstairs Huron Club at Soho Playhouse.
Catch Daniel's 7pm show, grab a quick drink right after and check out another brilliant UK comedian that you won't have heard of (yet) but who we are delighted to be showcasing alongside Daniel's season and who we are confident you will also really enjoy.
Fast becoming one of the world's biggest comedy names, with 2 hour-long Netflix comedy specials, both released on 11 September 2018, Daniel's last smash-hit tour spanned 150+ shows across 28 countries around the globe. He has appeared on US TV's 'Conan' a record 9 times, sold out shows at 11 consecutive Edinburgh Fringes (being one of the biggest comedy ticket sellers for the last 9 years), and played 9 solo sold out seasons in London's West End as well as 4 seasons off-Broadway in New York. Daniel has been featured on Comedy Central's 'Roast Battles' and 'Drunk History', ITV's 'Sunday Night at the Palladium', gave a 'Tedx' Talk and recorded a DVD (aged 20) and his stand-up clips have over 15 million views. Still just 28, this is his brilliant 10th solo show.